by T. Frohock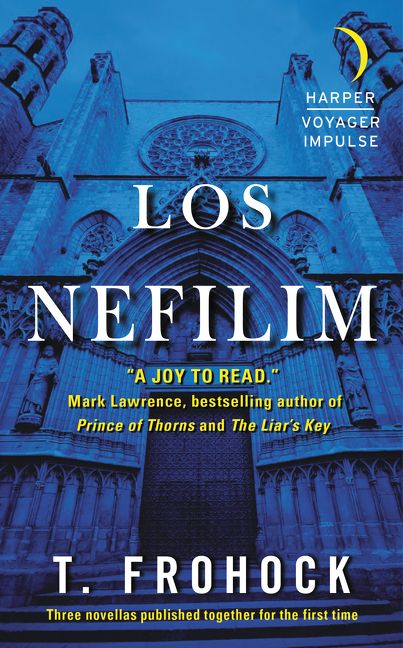 I love historical fiction. It's always been a favorite of mine, and historical fantasy … well, that is mixing ALL of my favorite things. I have enjoyed everything from Robert McCammon's World War II werewolf spy novel, The Wolf's Hour, to Jasper Kent's brilliant recreation of the Patriotic War of 1812 and his mysterious Oprichniki in the Danilov Quintet.
Since Los Nefilim can easily be classified as historical fantasy, I thought I would share a few of my favorite historical fantasy novels with you, and why these particular books resonated with me. Here are some classics and some new works that managed to blend history and fantasy into seamless stories that have horrified me (in a very pleasant way) and delighted me.
I have listed the works in alphabetical order by the author's last name:
Between Two Fires by Christopher Buehlman. In 1348 the fallen angels decide to launch a second war on Heaven, and in doing so, they bring Hell to earth–first in the form of war, and then with the plague. In France a fallen knight named Thomas rescues a Cather girl named Delphine from bandits, but Delphine is no ordinary girl. She can see angels, who warn her of the fallen's war on Heaven, and the part she must play. She convinces Thomas to take her to Avignon, where the Pope sleeps between two fires in an effort to ward off the plague. The journey leads them through a country ravaged by fear, starvation, and attacks by the fallen angels in order to prevent Delphine from arriving at Avignon. Chock full of historical accuracy and the most insidiously hellish imagery to ever hit the page, I consider it a horror novel, but if you like your grimdark both dark and grim, you might enjoy Between Two Fires.
A Trio for Lute: The Damiano Trilogy (includes the novels: Damiano; Damiano's Lute; and Raphael) by R.A. MacAvoy. If the Italian Renaissance is more your speed, these novels are for you. I've owned A Trio for Lute since I was in my early twenties–mine was a book club edition that is worn and yellowed around the pages, but like Tarr's The Hound and the Falcon series (more on that below), it is all the more loved for the wear. Damiano is an Italian witch, who only wants to learn how to play the lute from his teacher, the archangel Raphael. When his city is threatened by invading forces, Damiano must make a deal with Lucifer in order to save his beloved town and the people within. MacAvoy brings Damiano, Saara, and all of her characters to such vibrant life that you will remember them long after you turn the last page. Steeped with lyrical prose and a close look at how the choices we make affect others, The Damiano Trilogy honed both my love of language and of story from a very early age.
The Delia Martin series (includes the novels: Delia's Shadow; A Barricade in Hell; and Against a Brightening Sky) by Jaime Lee Moyer. One part mystery and one part history–the Delia Martin series is set at the turn of the twentieth century in San Francisco. Delia Martin can see ghosts, and after the quake of 1906, she is so overwhelmed by the number of the dead haunting her, she flees from her native San Francisco to New York City under the mistaken impression that she left the ghosts (quite literally) behind. Until, that is, she begins to see the ghost of a murdered woman from San Francisco. Delia knows she must return home in order to solve the mystery of this tortured woman's death and stop a serial killer. These are simply excellent novels with a smart, emotionally centered protagonist, and Moyer's prose never falters, whether she is describing the growing alliance between Delia and the police captain, Gabe, or the darkest heart of a killer. The novels stand alone, each with a different mystery, and Moyer's characters will win your heart.
The Hound and the Falcon (includes the novels: The Isle of Glass; The Golden Horn; and The Hounds of God) by Judith Tarr. Shifting through time again, Tarr's The Hound and the Falcon series is set during the High Middle Ages. Brother Alfred of St. Ruan's is of the elven race, but he was abandoned at the monastery of St. Ruan's as an infant. Raised by the monks, Alf, as he is known to his brothers, thinks of himself as human. But when a badly wounded elven knight begs Brother Alf to carry a message to the Elvenking in order to prevent a war, Alf is forced to confront his true elven nature, and the magic within his soul. Tarr captures Alf's philosophical conundrum over the nature of his soul, but she also keeps the action moving from one adventure to another. Filled with political intrigue and vibrant characters, Tarr's prose and her devotion to historical accuracy heavily influenced my thoughts about the nature of humanity, and the inhumanity of extremism in all its forms.
The Mechanical by Ian Tregillis. This is really more of an alternate history than an actual historical fantasy, and could even be described as steampunk (or clockpunk or some other punk, but I'm trying to keep it simple here). Anyway, I'm putting The Mechanical on my list, because Tregillis pulls from the seventeenth century philosophical differences between Protestantism and Catholicism to tell the tale of Jax, a rogue clockwork mechanical man, known as a clakker. The clakkers are controlled by their geas–hierarchical compulsions that govern the clakkers' performance in serving humans unless that function becomes damaged. Without the geas, clakkers develop free will, and the subject of free will becomes the crux of the novel. Is the manmade alchemical soul within the clakkers equivalent to the human soul? If so, is it right to use the clakkers as slaves? Tregillis balances these questions with just the right mix of espionage, action, and philosophy to deliver the kind of fantasy that I love: the kind that makes me think.
So those are a few of mine. If you're inclined, drop some of your favorite historical fantasy into the comments. I'd love to know what you're reading.
T. Frohock has turned a love of dark fantasy and horror into tales of deliciously creepy fiction. She lives in North Carolina, where she has long been accused of telling stories, which is a southern colloquialism for lying. You can find out more at www.tfrohock.com.