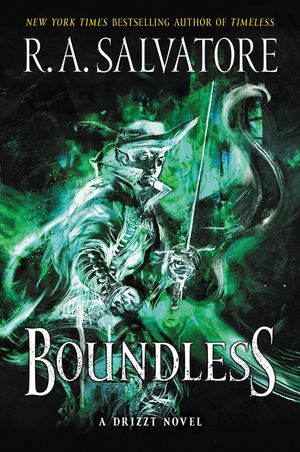 Boundless
A Drizzt Novel
Release date: Jun 23, 2020
ISBN: 9780063055292
The second book in New York Times bestselling author R. A. Salvatore's all-new trilogy—a rollicking a rollicking tale of swordplay, danger, and imaginative thrills, featuring one of fantasy's most beloved and enduring characters, Drizzt Do'Urden.
When the legendary drow warrior Zaknafei finally perished, he was content knowing he left behind a legacy as substantial as his son, Drizzt.

Except . . . someone wasn't ready for Zaknafein to be dead. Now he's back, hundreds of years later, in a world he does not recognize. His son's companions are not the prideful—and bigoted—males the dark elf was accustomed to in his previous life. Drizzt's friends and companions includes dwarves, elves, and, perhaps worst of all, a human wife.

Struggling to navigate this transformed new world, Zaknafein realizes that some things have not changed: the threat of demons and the machinations of a drow matron no longer content with her family's position in the ranks of houses.

Though he has been displaced in time, Zaknafein is still a warrior. And no matter what prejudices he must overcome, he knows he will do his duty and fight by Drizzt's side to stem the tide of darkness that threatens the Realms.