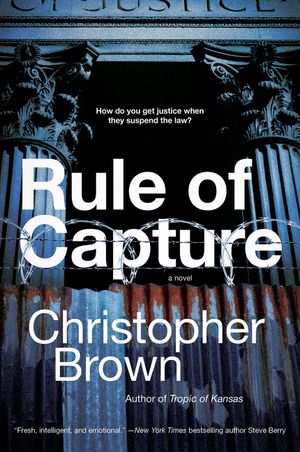 Rule of Capture
A Novel
Release date: Aug 13, 2019
ISBN: 9780062859112
The first volume in an explosive legal thriller series set in the world of Tropic of Kansas—a 2018 Campbell Award finalist for best science fiction novel of the year
Defeated in a war with China and ravaged by climate change, America is on the brink of civil war. Seizing power after a controversial election, the ruling regime has begun cracking down on dissidents fighting the nation's slide toward dictatorship. For Donny Kimoe, a lawyer who defends enemies of the state, chaos is good for business.
His newest client, young filmmaker Xelina Rocafuerte, witnessed the murder of an opposition leader and is now accused of terrorism. To save her from the only sentence worse than death, Donny has to extract justice from a system that has abandoned the rule of law. That means breaking the rules himself—and risking the same fate as his client.
His only chance of winning is to find the truth—a search that begins with the opposition leader's death and leads to a dark conspiracy reaching the highest echelons of power.
As the trial begins, Donny uncovers devastating secrets, knowledge that will force him to choose between saving one client . . . or the future of the entire country.