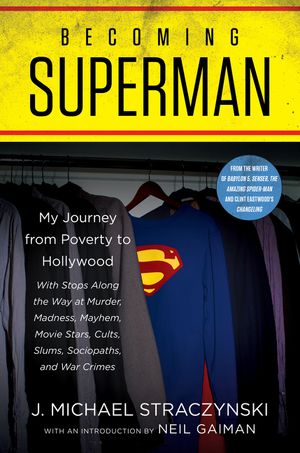 Becoming Superman
My Journey From Poverty to Hollywood
Release date: Jul 23, 2019
ISBN: 9780062857859
In this dazzling memoir, the acclaimed writer behind Babylon 5, Sense8, Clint Eastwood's Changeling, and Marvel's Thor reveals how the powers of creativity and imagination enabled him to overcome the horrors of his youth in a dysfunctional family haunted by a terrible secret to become one of the most successful writers in Hollywood
For four decades, J. Michael Straczynski has told hundreds of stories and forged multiple careers in movies, television, and comics. Yet there's one story he's never told before: his own.
Raised by damaged adults—a con-man grandfather and a manipulative grandmother, a violent, drunken father and a mother who was repeatedly institutionalized—Joe grew up in abject poverty, living in slums and projects when not on the road, crisscrossing the country as his father tried desperately to escape the consequences of his past.
To survive this environment Joe found refuge in his beloved comics and in his dreams, immersing himself in imaginary worlds populated by superheroes whose powers allowed them to overcome any adversity. The deeper he read, the more he came to realize that he, too, had a superpower: the ability to tell stories and make everything come out the way he wanted. The result was a writer's journey that would take him beyond anything he could have imagined.
Straczynski's personal history has always been shrouded in mystery. Becoming Superman lays bare the facts of his life: a story of creation and darkness, hope and success, a larger-than-life villain and a little boy who broke the cycle of violence to become the hero of his own narrative. It is also a road map for growth as a writer and a compelling behind-the-scenes look at some of the most successful TV series and movies recognized around the world.