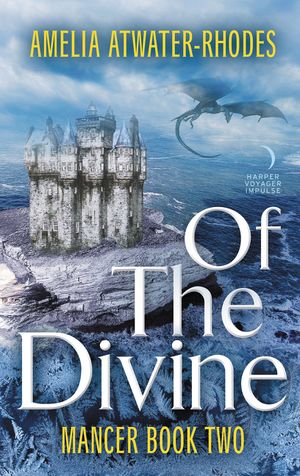 Of the Divine
Mancer: Book Two
Release date: Oct 17, 2017
ISBN: 9780062562166
The second novel in Amelia Atwater-Rhodes's dazzling Mancer trilogy, Of the Divine takes place seventy-one years before Of the Abyss, in a world where sorcery is still practiced freely—but at what cost?
Henna is one of the most powerful sorcerers in the Order of Napthol, and her runes 's runes tell her that the future of Kavet is balanced on the edge of the knife. The treaties between Kavet and the dragon-like race known as the Osei have become intolerable. The time has come for the royal house to magically challenge Osei dominion. Prince Verte, Henna' lover, is to serve as the nexus for the powerful but dangerous spell, with Naples--an untested young sorcerer from the Order of Napthol--a volatile but critical support to its creation.
Amid these plans, Dahlia Indathrone's arrival in the city shouldn't matter. She has no magic and no royal lineage, and yet, Henna immediately knows Dahlia is important. She just can't see why.
As their lives intertwine, the four will learn that they are pawns in a larger game, one played by the forces of the Abyss and of the Numen—the infernal and the divine.
A game no mortal can ever hope to win.