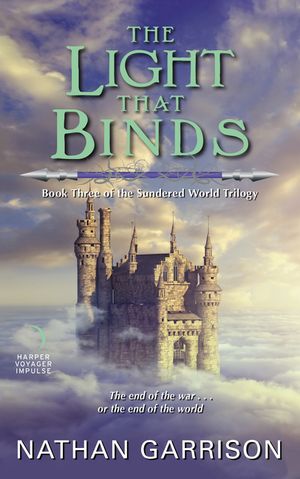 The Light That Binds
Book Three of the Sundered World Trilogy
Release date: Nov 14, 2017
ISBN: 9780062452931
In The Light That Binds, the final installment of the Sundered World trilogy, Nathan Garrison concludes the story of Mevon, Jasside, and Draevenus—among many others—that he began with Veiled Empire and Shadow of the Void.
The Veil came down…but what did it let in?
In the wake of a treasonous plot that plunged the world into a vicious war, a new threat emerges: the Ruvak. It quickly becomes clear that the forces of man, mierothi, and valynkar are no match against this new foe. Not only do the Ruvak have a peculiar resistance to magic, their numbers are so vast, even the combined power of these unlikely allies have no way of matching them.
Still reeling from the betrayal that resulted in her coronation, and with the Ruvaki fleet inexorably pushing across the continent, Queen Arivana must now make hard decisions for her people and for the world, including turning a blind eye to Vashodia's machinations and sending agents Tassariel and Draevenus to infiltrate enemy territory.
With the help of powerful Jasside and thoughtful Gilshamed, though, all is not lost.
But each new battle moves the Ruvak ever forward, and even the appearance of Mevon—who many thought dead—and his father's armies might not be enough to prevent a new species from exterminating them all. It is the final battle for survival, and even the gods are powerless to stop it.