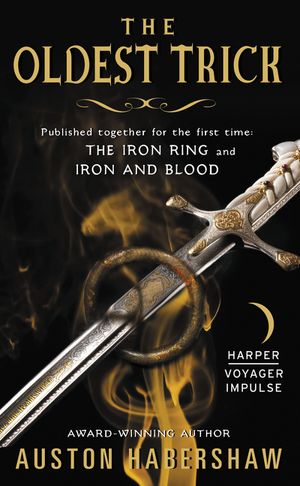 The Oldest Trick
Book 1 of the Saga of the Redeemed
Release date: Aug 11, 2015
ISBN: 9780062417220
Compiled for the first time, The Oldest Trick comprises The Iron Ring and Iron and Blood in the Saga of the Redeemed
Tyvian Reldamar gets betrayed by his longtime partner and left for dead in a freezing river. To add insult to injury, his mysterious rescuer took it upon himself to affix Tyvian with an iron ring that prevents the wearer from any evildoing.
Revenge just got complicated.
On his quest to get even, Tyvian navigates dark conspiracies, dodges midnight assassins, and uncovers the plans of the ruthless wizard Banric Sahand. Tyvian will need to use every dirty trick in the book to avoid a painful and ignominious end, even as he learns to work with—and rely on—his motley crew of accomplices, including an adolescent pickpocket, an obese secret-monger, and a fearsome gnoll.