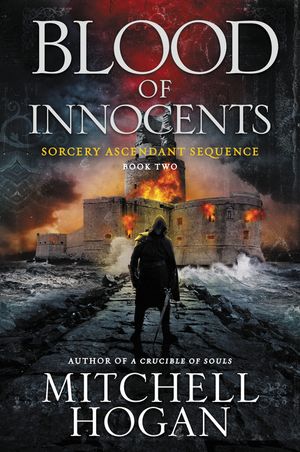 Blood of Innocents
Book Two of the Sorcery Ascendant Sequence
Release date: Feb 02, 2016
ISBN: 9780062407252
A novice sorcerer may hold the key to saving his world—or be the instrument of its destruction—in this second book in the Sorcery Ascendant Sequence, a mesmerizing saga of high fantasy that combines magic, malevolence, and mystery
Anasoma, jewel of the Mahruse Empire, has fallen. As the orphan Caldan and his companions flee the city, leaving behind their hopes for a new beginning, horrors from the time of the Shattering begin to close in.
With his friend Miranda's mind broken by forbidden sorcery, Caldan does the unthinkable to save her: he breaks the most sacrosanct laws of the Protectors. But when the emperor's warlocks arrive to question him, Caldan realizes that his burgeoning powers may be more of a curse than a blessing, and the enemies assailing the empire may be rivaled by more sinister forces within.
And soon, the blood of innocents may be on Caldan's own hands.