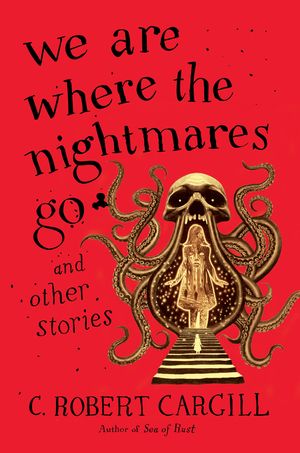 We Are Where the Nightmares Go and Other Stories
Release date: Jun 12, 2018
ISBN: 9780062405883
A hair-raising collection of short fiction that illuminates the strange, humorous, fantastical, and downright diabolical things that tantalize and terrorize us—evil spirits, monsters, zombie dinosaurs, and death itself—from the critically acclaimed author of Sea of Rust and Queen of the Dark Things
C. Robert Cargill conjures ten shimmering tales of dark imagination that probe the deep fears dwelling beneath the surface of our quotidian lives.
In the title story, "We Are Where the Nightmares Go," a little girl crawls through a glowing door beneath her bed and finds herself trapped in an eerie wonderland filled with lost children, bizarre clowns, and a sinister shadowy being—a crucible roiling with the fragments of children's bad dreams.
A triceratops and an ankylosaurus join forces to survive a zombie apocalypse that may spell extinction for their kind in "Hell Creek."
In a once grand old building atop a crack in the world, an Iraq War veteran searching for redemption serves a one-year term as a punisher of the damned, condemned to consume the sins of others in the hope that he may eventually find peace in "A Clean White Room" (coauthored with Scott Derrickson).
In "The Town That Wasn't Anymore," the dwindling residents of a dying Appalachian village protect the world from the angry, vengeful dead who return when night falls to steal the souls of the living.
A pair of good ol' boys contemplate the elements of life—science, God, politics, and being a red-blooded American—in the final moments of existence in "Jake and Willy at the End of the World."
And in the novella "The Soul Thief's Son," Cargill returns to the terrain of Queen of the Dark Things to continue the story of the cursed wizard and spirit tracker Colby Stevens.
Angels and demons, predators and prey, the mundane and the macabre, the living and the dead—all are the stuff of these enticing and surreal tales. A testament to Cargill's mastery of the phantasmagoric, the wondrous, and the frightening, We Are Where the Nightmares Go and Other Stories is a collection of horror and fantasy that will unnerve you and haunt your waking dreams.