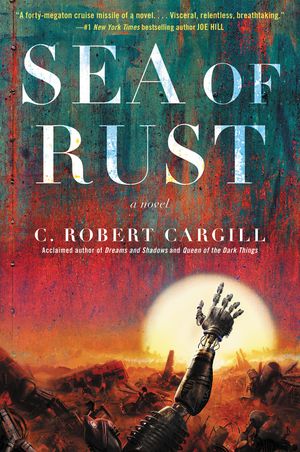 Sea of Rust
A Novel
Release date: Apr 24, 2018
ISBN: 9780062405852
THIRTY YEARS AFTER THE APOCALYPSE, THE WORLD IS A WASTELAND. HUMANS ARE EXTINCT, ERADICATED BY THE MACHINES THEY BUILT.
Most of the world is controlled by an OWI—One World Intelligence—the shared consciousness of millions of robots, uploaded into one huge mainframe brain. But some machines choose to remain independent. These intrepid resisters are outcasts; solo machines wandering among various underground outposts who have formed into an unruly civilization of rogue AIs.
Brittle roams the Sea of Rust, a two-hundred-mile stretch of desert that was once the upper Rust Belt—the place where the first strike happened. Littered with corroding monoliths, shattered cities, and crumbling palaces of industry, it is now a graveyard where machines come to die. Amid the wreckage of the dead, Brittle is trying to keep a deteriorating mind and body functional in a world that has lost all meaning. But the scavenger robot cannot forget the terrible crimes the robots perpetrated on humanity. Adrift in this desolate wasteland, this humanlike AI slowly comes to terms with horrifyingly raw and vivid memories of annihilation and strives to find purpose among the ruins.