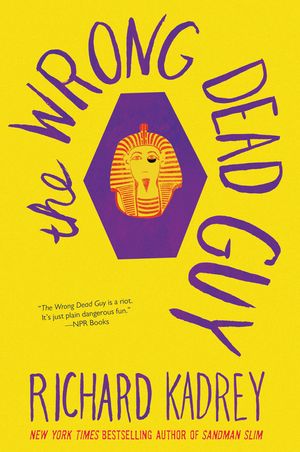 The Wrong Dead Guy
Release date: Dec 05, 2017
ISBN: 9780062389589
Coop, a master thief sort of gone legit, saved the world from an ancient doomsday device heroism that earned him a gig working for the Department of Peculiar Science, a fearsome top secret government agency that polices the odd and strange. 
Now Woolrich, Coop's boss at the DOPS, has Coop breaking into a traveling antiquities show to steal a sarcophagus containing the mummy of a powerful Egyptian wizard named Harkhuf. 
Coop pulls off the heist without a hitch. And it's not his fault that when DOPS opened the sarcophagus they didn't find the mummy they were expecting. Well, it was the right mummy, but it wasn't exactly dead and now it's escaped. Being a typical boss, Woolrich blames his underling for the screw-up and wants Coop to find the missing Harkhuf and make it right, pronto. 
Digging into Harkhuf's history, Coop thinks the mummy is hunting for an ancient magical manuscript that will help him bring his old lover back to life. Which wouldn't be so bad if she wasn't a warrior sorceress hell-bent on conquering the world with her undead armies.
Coop would very much like to run from the oncoming chaos. It's one thing to steal a mummy, but another to have to deal with head-hunting bureaucrats, down-on-their-luck fortune-tellers, undead mailroom clerks, and a rather unimpressed elephant. Unfortunately, there's nowhere to run. If he wants the madness to stop, he's going to have to suck it up and play hero one more time. But if Coop manages to save the world AGAIN, he's definitely going to want a lot of answers. 
And a raise.