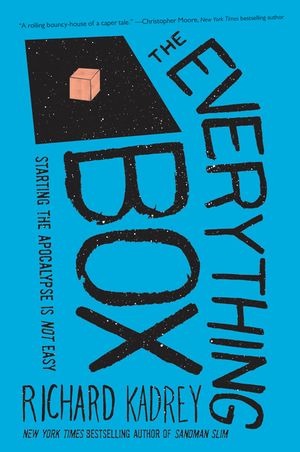 The Everything Box
A Novel
Release date: Apr 19, 2016
ISBN: 9780062389565
2000 B.C.
A beautiful, ambitious angel stands on a mountaintop, surveying the world and its little inhabitants below. He smiles, because soon the last of humanity who survived the great flood will meet its end, too. And he should know. He's going to play a big part in it. Our angel usually doesn't get to do fieldwork, and if he does well, he's certain he'll get a big promotion.
And now it's time . . . 
The angel reaches into his pocket for the instrument of humanity's doom. Must be in the other pocket. Then he frantically begins to pat himself down. Dejected, he realizes he has lost the object. Looking over the Earth at all that could have been, the majestic angel utters a single word.
"Crap."
2015
A thief named Coop—a specialist in purloining magic objects—steals and delivers a small box to the mysterious client who engaged his services. Coop doesn't know that his latest job could be the end of him—and the rest of the world. Suddenly he finds himself in the company of the Department of Peculiar Science, a fearsome enforcement agency that polices the odd and strange. The box isn't just a supernatural heirloom with quaint powers, they tell him.
It's doomsday itself. Or a bomb. Or something. They're not really sure . . .
And suddenly, everyone is out to get it.
Reminiscent of the edgy, offbeat humor of Christopher Moore and Matt Ruff, The Everything Box is first entry in a whimsical, fast-paced supernatural series from the New York Times bestselling author of the Sandman Slim novels—a dark and humorous story involving a doomsday gizmo, a horde of baddies determined to possess its power, and a clever thief who must steal it back . . . again and again.
Praise for The Everything Box
"A rolling bouncy-house of a caper tale, The Everything Box abounds with quick-witted characters, snarky dialogue, and surreal analogies. If you haven't sampled Richard Kadrey's take on fantasy yet, this is a great place to start."—Christopher Moore, New York Times bestselling author of Lamb, A Dirty Job, and The Serpent of Venice
"This book has everything I need in a book, and some things I didn't know I needed. I couldn't stop laughing at the freelance poltergeists, inept angels, doomsday devices, mooning werewolves ( . . . mooning werewolf. I just got that), and small time career criminals in way over their heads. Highly recommended."—Mur Lafferty, author of The Shambling Guide to New York City
"Richard Kadrey's The Everything Box is a manic and hilarious Venn diagram of Elmore Leonard, Dave Barry, and the Book of Revelation. The last time the end of the world in a novel was this funny, aliens destroyed Earth to build a hyperspace bypass through it."—Matt Wallace,  author of Envy of Angels and Lustlocked
"Kadrey's plot doesn't depend on magic; instead, magic is the broth bringing all manner of delicious ingredients together in this wonderful stew of a story. This unusual urban fantasy is a delight."—Publishers Weekly
"The story is fast-paced, very funny, and exceptionally clever. Kudos to this author!"—Suspense Magazine