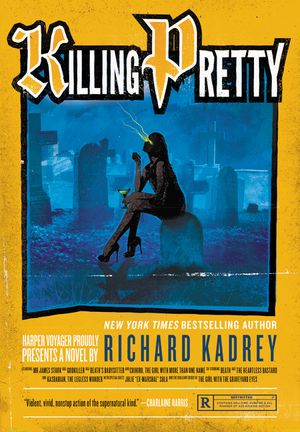 Killing Pretty
A Sandman Slim Novel
Release date: Jul 28, 2015
ISBN: 9780062373243
IT'S A LOUSY DAY FOR DEATH TO DIE
Someone has tried to kill Death—ripping the heart right out of him—or rather, the body he's inhabiting. And that means Death needs Sandman Slim's help: he believes anyone who can beat Lucifer and the old gods at their own game is the only one who can solve his murder.
Stark would rather get a drink.
But when people stop dying, Stark knows he has to figure it all out. So he follows a sordid trail deep into L.A.'s subterranean world, from vampire-infested nightclubs to talent agencies specializing in mad ghosts, from Weimar Republic mystical societies to sleazy supernatural fight and sex clubs. Along the way he meets a mysterious girl—distinguished by a pair of graveyard eyes—as badass as Slim: she happens to be the only person who ever outwitted Death. But escaping her demise has had dire consequences for the rest of the world . . . and a few others.
For years, Slim has been fighting cosmic forces bent on destroying Heaven, Hell, and Earth. This time, the battle is right here on the gritty streets of the City of Angels, where a very clever, very ballsy killer lies in wait.
"Six years after stumbling into Sandman Slim's seedy, seamy world, I'm still hungry to go back every time. To get lost in it. I have yet to be disappointed. But if this is escapism, it's the most masochistic kind I can imagine."—NPR Books