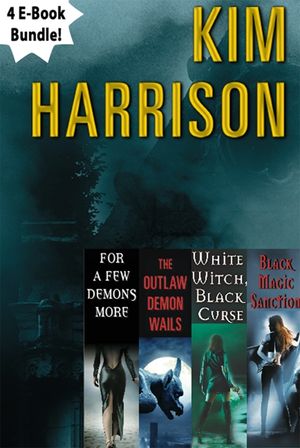 Kim Harrison Bundle #2
Release date: Aug 12, 2014
ISBN: 9780062372567
Format: E-book
Get four novels in Kim Harrison's #1 New York Times bestselling Hollows series as one e-book! This bundle includes For a Few Demons More, The Outlaw Demon Wails, White Witch, Black Curse, and Black Magic Sanction. Discover this great series at a special price!
For a Few Demons More
Despite dating one vampire and living with another, Rachel Morgan has always managed to stay just ahead of trouble . . . until now. A fiendish serial killer stalks the Hollows, and no one living in or around Cincinnati—human, inhuman, or undead—is safe. An ancient artifact may be the key to stopping the murderer—a mysterious relic that is now in the hands of Rachel Morgan, fearless independent bounty hunter and reckless witch. But revealing it could ignite a battle to the death among the vast and varied local supernatural races. Rachel's been lucky so far. But even she can't hide from catastrophe forever.
The Outlaw Demon Wails
When you dance with demons, you lay your soul on the line … In the Hollows, where the natural and the supernatural co-exist—not always peacefully—desperate times often call for unorthodox measures. But bounty hunter-witch Rachel Morgan did the absolutely unthinkable to save the lives of her friends: she willingly trafficked in forbidden demon magic. And now her sins have come home to haunt her. As Rachel hunts for the truth behind a terrifying murder, the discovery of a shocking family secret is about to throw her entire life into question. And the long-lost ancient knowledge she seeks resides in the demonic ever-after. But there are some lines that should never be crossed—like the one Rachel Morgan's stepping over . . . Again!
White Witch, Black Curse
Kick-ass bounty hunter and witch Rachel Morgan has crossed forbidden lines, taken demonic hits, and still stands. But the death of her lover struck her harder than she ever thought possible. She won't rest until his murder is solved . . . and avenged. But a new predator is moving to the apex of the Inderlander food chain—and now Rachel's past is coming back to haunt her. Literally.
Black Magic Sanction
Rachel Morgan has fought and hunted vampires, werewolves, banshees, demons, and other supernatural dangers as both witch and bounty hunter—and lived to tell the tale. But she's never faced off against her own kind . . . until now. Denounced and shunned for dealing with demons and black magic, her best hope is life imprisonment—her worst, a forced lobotomy and genetic slavery. Only her enemies are strong enough to help her win her freedom. But trust comes hard when it hinges on the unscrupulous tycoon Trent Kalamack, the demon Algaliarept, and a lowlife ex-boyfriend-turned-thief.