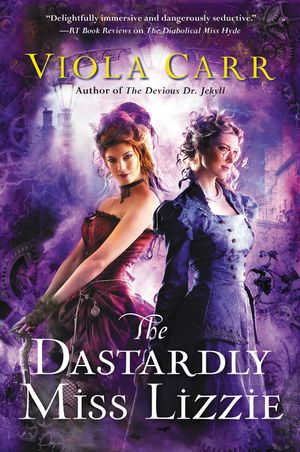 The Dastardly Miss Lizzie
An Electric Empire Novel
Release date: Apr 18, 2017
ISBN: 9780062363121
In the stunning conclusion to Viola Carr's Electric Empire trilogy, Dr. Eliza Jekyll must stop a murderer determined to control a terrifyingly powerful invention, but her other,m darker half, Miss Lizzie Hyde, has plans of her own. . . .
Being two people in one body isn't easy. Metropolitan Police crime scene physician Eliza Jekyll is trying to maintain a semblance of control, even as her rebellious other self, Lizzie Hyde, grows increasingly wild. With an unstoppable slasher on the loose, a fiancé enmeshed in the dark world of French sorcerers, and an immortal scientist tasking her to heal the dim-witted king, the last thing Eliza needs is for Lizzie to appear and wreak havoc at will.
Eliza needs her mind clear and sharp if she's to catch the murderer responsible for killing off the city's most eminent scientists, one by one. At the heart of each death lies clues to a machine that shouldn't exist, one powerful enough to destroy the world.
But as the mystery begins to unravel, Eliza discovers her own enemies are closing in, driving her to desperate measures in order to thwart the killer. And Lizzie's no help. She's got her own life now, and true to her nature, will resort to the devious and the diabolical to keep it. Even if it means throwing Eliza to the wolves, and letting the world burn . . .