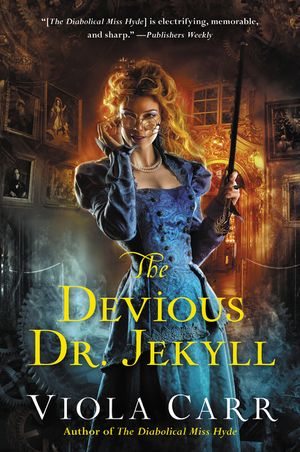 The Devious Dr. Jekyll
An Electric Empire Novel
Release date: Oct 27, 2015
ISBN: 9780062363114
A perilous case. A worthy foe. Thıs could make her career . . . or ruın ıt forever.
Solving the notorious Chopper case was supposed to help crime scene physician Dr. Eliza Jekyll—daughter of the infamous Henry—establish her career in the chauvinistic world of Victorian law enforcement. But the scrutiny that comes with her newfound fame is unwelcome for a woman with a diabolical secret: her dark and jealous shadow self, Lizzie Hyde. And there is the mercurial Royal Society agent with his own secret to hide, Captain Remy Lafayette. Does he want to marry Eliza or burn her at the stake? It's impossible, however, for Eliza to push Remy away when he tempts her with the one thing she can't resist: a bizarre crime to investigate. And although Eliza is uncertain about Remy, Lizzie isn't. Lizzie wants to steal the magnetic and persistent agent and usurp Eliza's life.
As the search for a bloodthirsty torturer dubbed the Pentacle Killer draws Eliza and Remy into a terrifying world of spies, art thieves, and evil alchemy—where the price of immortality is madness or damnation—only Lizzie's dark ingenuity can help Eliza survive. Eliza and Remy must race to thwart a foul conspiracy involving the sorcerous French, but they must also overcome a sinister enemy who is all too close to home: the vengeful Lizzie, who is determined to dispose of Eliza for good.