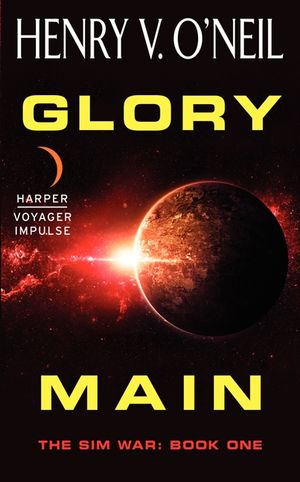 Glory Main
The Sim War: Book One
Release date: Sep 02, 2014
ISBN: 9780062359193
We are closer to the Sims than we think …
For decades, mankind has been locked in a war with an alien enemy that resembles the human race so closely they are known as the Sims. Both sides battle for control of habitable planets across the galaxies—often at any cost.
Lieutenant Jander Mortas is fresh out of officer training and new to the war zone but eager to prove himself. There's just one problem: disaster strikes while he's traveling to his first assignment. He wakes to find himself marooned on a planet that appears deserted, with the only other survivors: a psychoanalyst, a conscientious objector, and a bitter veteran of a brutal slave-scout detachment. As the group struggles to reach safety on a nearby base, Glory Main, they discover a Sim colony—which could mean their salvation, or their demise.
Thrown together, they must fight the harsh elements, an ever-present enemy, and possibly each other.