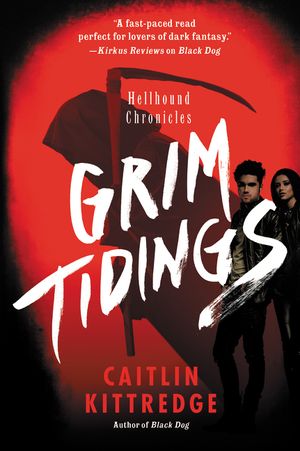 Grim Tidings
Hellhound Chronicles
Release date: Apr 19, 2016
ISBN: 9780062316943
"Caitlin Kittredge at her ferocious best.
Black Dog sinks its teeth and claws into you and doesn't let go. And you won't want it to."—New York Times bestselling author Richard Kadrey on Black Dog
After winning her freedom from Gary, a heartless reaper, and facing off against a fearsome demon boss, Ava is now a masterless hellhound. And her friend, Leo, has found a new life after death: He's returned as the Grim Reaper—the first in centuries. As both try to adjust to their new circumstances, Ava's dark past comes back to wreak havoc on her . . . and the entire world.
A breed of monsters as smart as vampires—but who behave likezombies—has been sighted in Kansas. This isn't the first time Ava's come across these "zompires," and now they're spreading their infection across America's heartland thanks to a nasty piece of business named the Walking Man. Ava thought she'd kicked his ass for good when she first battled him in a Nazi death camp, and that mistake just might cost her life.
To stop the Walking Man, Ava must form an unholy alliance with some old foes and new friends . . . a bargain that will lead her to uncover deeply buried truths about her past—and Leo's future.
"[M]ake this one a series to watch."—Booklist