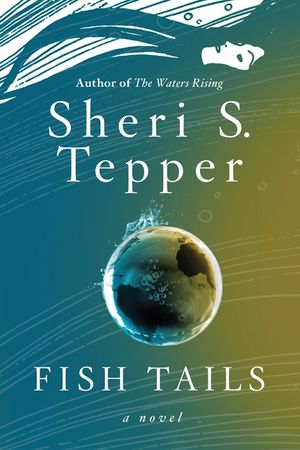 Fish Tails
A Novel
Release date: Oct 21, 2014
ISBN: 9780062304605
In her thirty-fifth novel—a majestic epic rich with beauty and wonder—science fiction legend Sheri S. Tepper boldly weaves together the storylines of eleven of her previous works, from King's Blood Four (1983) to The Waters Rising (2010)
In Fish Tails, two of Tepper's beloved characters—Abasio the Dyer and his royal wife, Xulai (A Plague of Angels and The Waters Rising)—are traveling through the scattered villages of the sparsely populated land of Tingawa. Accompanied by their young children, they seek to warn everyone of the dire ecological changes that will alter their lives and those of their children for generations to come.
The waters are rising, and will eventually inundate their world, transforming it utterly and irrevocably. Many of those born in the coming century will resemble their son and daughter—sea children who can live without land. Abasio and Xulai also hope to find others interested in adopting their sea-dwelling lifestyle.
Along their journey they encounter strange visitors from the far-off world of Lom, characters from Tepper's nine-book True Game series of novels—Mavin Manyshaped, Jinian Star-Eye, and Silkhands the healer—all of whom have been compelled by an interfering, time-traveling, rule-breaking do-gooder to perform one last virtuous act on Earth before its metamorphosis is complete.
A grand summation of a long and illustrious career, Fish Tails displays the extraordinary powers of invention of one of the great voices in contemporary science fiction, interweaving the storylines of eleven of her novels written over three decades. Sweeping in scope and vision, full of insights for our own time, it is a masterpiece of imagination, the capstone to a marvelous oeuvre.