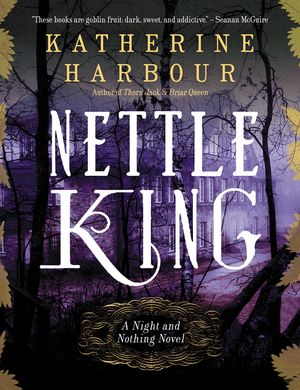 Nettle King
Release date: Apr 19, 2016
ISBN: 9780062286789
"Harbour makes love, suffering, and sacrifice the most poignant parts of her worlds, and readers with even the barest knowledge of fairy lore and legends will be pulled deep into this tale of sharp magic and its ruthless children. "—Publishers Weekly
Three months have passed since Finn's beloved Jack traded his life for her sister's, walking into the underworld to take Lily's place. No one speaks of the Fata these days; everyone is pretending everything is normal.
But Finn cannot forget. And when she makes a daring odyssey into the world of the dead to bring Jack back, she inadvertently opens a dangerous fissure, giving the dead access to the true world.
With the lines between worlds more blurred than ever, Finn's friend Moth returns from Sombrus, the magical house once owned by Seth Lot, with terrible news: Something evil—something that resembles Jack—has escaped Sombrus. Now Fair Hollow is at risk from this Jack-like creature that will not stop until it gets what it wants. . . . And it wants Finn.