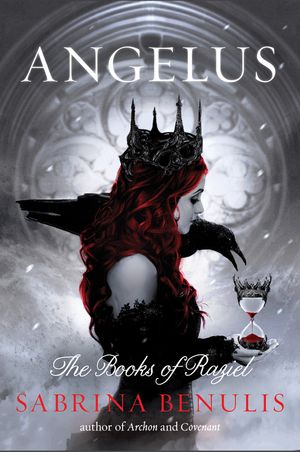 Angelus
The Books of Raziel
Release date: Feb 09, 2016
ISBN: 9780062069436
The heart-pounding conclusion to the  Books of Raziel trilogy, a gothic supernatural  tale about a girl who discovers she holds the  keys to both Heaven and Hell—and that angels, demons, and all the creatures in between will stop at nothing to possess her and control that power.
Like sand in an hourglass, time is slipping away . . .
The war started by three powerful angel siblings—Raziel, Lucifel, and Israfel—has divided the kingdoms of both Heaven and Hell for ages. Now, that destruction is spilling over into the human world, and only the Archon can stop it.
She is Angela Mathers, a human who sits on the Devil's vacant throne, seemingly fulfilling a prophecy of ruin. As the Archon, Angela alone can oppose Lucifel and open Raziel's Book to use its power for good. But to do so would mean murdering her best friend, Sophia, and that's a sacrifice Angela refuses to contemplate.
But ruin does not always mean destruction—sometimes it means revolution. Echoes of the past have resurrected the Angelus, the Song of Creation, and its notes are somehow linked to the Book. Now Angela must discover the truth behind the song and her own origins, but time is running out. There are dark forces who believe Angela's success will not end tragedy but continue it, and they're determined to stop the Archon's destiny once and for all.
"[Sabrina's] unique take on religion and angels is truly innovative." —RT Book Reviews on Covenant