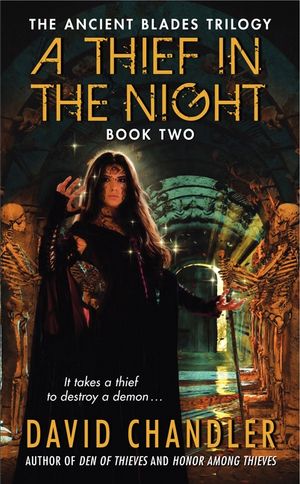 A Thief in the Night
Book Two of the Ancient Blades Trilogy
Release date: Sep 27, 2011
ISBN: 9780062021250
Circumstance made him a criminal.Destiny may make him a hero.
As a thief, Malden is unparalleled in the Free City of Ness,and happy there. But by saving the life of theknight Croy, Malden has bound himself to an ancient,noble brotherhood . . . and he now possesses one ofonly seven Ancient Blades capable of destroying demons.
Malden fears accompanying Croy and the barbarian Mörget on their quest to dispatch a foul creature of nightmare . . .nor does he want to disturb the vengeful dead. But with anassassin on his heels, the young cutpurse is left with no choice. And there is the comely sorceress, Cythera, to consider—promised to Croy but in love with Malden—not to mentionthe fabulous treasure rumored to be hidden in the depths of the demon's lair . . .