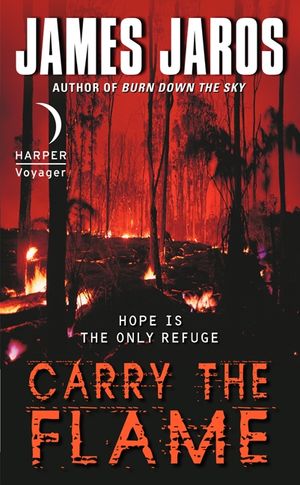 Carry the Flame
Release date: Jul 31, 2012
ISBN: 9780062016317
Tomorrow's world is a wasteland, decimated by vengeful nature and disease . . .
And those who rule the ruins worship a cruel and terrible god.
Having survived the terror of the Alliance and the single-minded fanaticism of its hideous religion, a caravan of survivors moves quickly into the Great American Desert, the wastes of what once was America's heartland. With her daughters at her side—recently rescued Ananda and her daring older sister, Bliss—Jessie hopes to find sanctuary in the Arctic, now rumored to be temperate. But their enemies are powerful and relentless, and will not rest until they possess the caravan's most precious treasures: their prepubescent female children, a stolen tanker filled with fuel . . . and a pair of frightened twins, whom the Army of God calls "demon."
But the danger in pursuit pales before the horror that lies ahead when Jessie, the marauder-turned-ally Burned Fingers, and the innocents in their care face the savagery, the madness, and the monsters that dwell in the terrifying City of Shade.