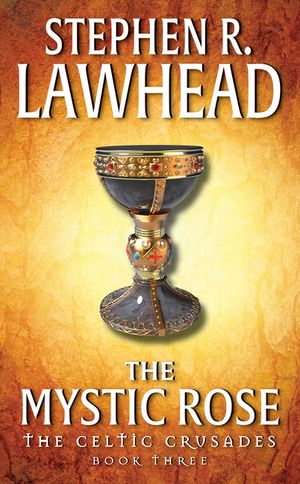 The Mystic Rose
The Celtic Crusades: Book III
Release date: Mar 17, 2009
ISBN: 9780061760181
Stephen R. Lawhead's Celtic Crusades saga has won widespread critical acclaim and a legion of loyal readers. Now, he returns with the final volume in this magnificent series -- a tale rich in history and imagination, filled with danger, betrayal, courage, and faith, as the third generation of a Scottish noble family continues its eternal quest to secure the divine on earth, and preserve humankind's last true hope for salvation.
While undergoing the initiation into the highest order of a secret religious society, Scottish lawyer Gordon Murray discovers the greatest revelation of all ...
A thousand years after its disappearance, the Mystic Rose, which is the fabled Grail -- the Chalice of the Last Supper -- has been found, and the Knights Templar will stop at nothing to possess it. Led by the ruthless and corrupt Renaud de Bracineaux, the warrior monks embark on a dangerous and deceitful quest to find the Holy Cup.
Only one person stands in their way: Cait, a young woman from the windswept hills of northern Scotland. Raised on the Crusader tales of her grandfather, Murdo, and her father, Duncan, the redoubtable Cait has determined to claim the prize for her own.
The trail is long, and it is treacherous. Guided only by a handful of coded clues gleaned from a stolen letter, Cait and her small band of knights will make their way from the shadowed halls of Saint Sophia to the marble palaces of Aragon, from Constantinople to Santiago de Compostela and beyond, deep into the heart of Moorish Spain and a world unseen by Christian eyes for over four hundred years.
Thus begins a race which quickly escalates into a battle of wits, will, and might between two implacable, cunning, and resourceful foes for the possession of the most valuable object in all Christendom: the Mystic Rose.
Magnificent and breathtaking in scope, The Celtic Crusades traces the epic tale of one family fighting for its faith during one of the bloodiest epochs in history, and with The Mystic Rose delivers a powerful and moving climax to this unique and compelling historical adventure. Vividly interweaving the history of our own tumultuous time with events from long ago, and brilliantly blending sheer, visceral storytelling excitement with a powerful sweeping vision of human destiny, Stephen R. Lawhead concludes his thrilling trilogy of a Scottish noble family during the age of the Crusades and the secret society whose hidden ceremonies have shaped our world.