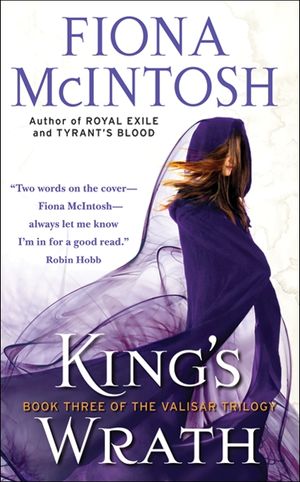 King's Wrath
Book 3 of the Valisar Trilogy
Release date: Nov 30, 2010
ISBN: 9780061582707
Format: Mass Market PB
The thrilling conclusion to the breathtaking saga of power, blood, birthright, and enchantment.
The barbarian King Loethar may have gained his throne through brutality and bloodshed, but he has ruled Penraven with unexpected wisdom. Now his innumerable past sins threaten his reign—as Valisars who escaped slaughter prepare to rise up. Loyalties shift and new alliances are formed as the truth of history begins to emerge.
King-in-exile Leonel hungers for revenge against the man he considers the usurper of his throne. Yet Leo is unaware of another who wields the enchantment he covets—the once-charming "halfwit" brother Piven, now a powerful youth whoseexceptional cunning is matched only by his ruthless desire for the throne.
But the efforts of all three to hold or gain control of Penraven may well be in vain, for the true inheritor of the Valisar Legacy is being called home . . .to claim her crown.