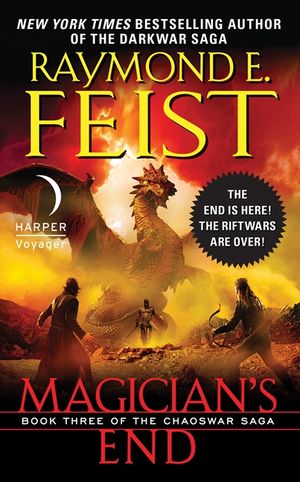 Magician's End
Book Three of the Chaoswar Saga
Release date: Sep 30, 2014
ISBN: 9780061468445
As it began, so shall it end—in magic, mystery, and majesty . . .
An uneasy quiet has settled upon Midkemia in the wake of a surprise invasion. But the land is far from peaceful. Leaderless, the Kingdom is on the brink of anarchy and civil war, unless Hal conDoin, Duke of Crydee, and his brothers can rally their allies to crown a new king.
Yet the bravery of determined warriors—brothers in blood and arms—is not enough to ensure the Kingdom's preservation without the magic of the Master Sorcerer Pug. But to save Midkemia—and everything he has fought for and all he cherishes—Pug will have to pay the ultimate price.
A breathtaking tale of elves and men, love and hate, ambition and sacrifice, intrigue and brotherhood, war and peace, Magician's End is the final volume in Raymond E. Feist's epic Riftwar Cycle, and brilliantly captures the essence of life and the eternal struggle for survival.