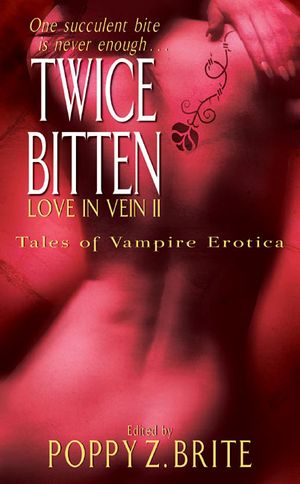 Twice Bitten
Love in Vein II
Release date: Mar 01, 2005
ISBN: 9780061056574
Format: Mass Market PB
A second helping of blood and passion ...
Acclaimed dark fantasist Poppy Z. Brite's previous excursion into the nightmare realm of terrifying sensuality offered readers a sumptuous blood feast of unspeakable pleasures. Now she has done it again, serving up more provocative tales from some of the most inventive and accomplished writers in the field -- an unabashed exploration of shadow places and terrible hungers that's more dangerously seductive, more boldly erotic than the first.
If you found Love in Vein disturbingly dark, unsettlingly seductive, and deliciously carnal -- you're going to adore Twice Bitten: Love in Vein II. But be warned. It may be more than you can handle. It may open doors into the darkest corners of your unspoken fears. And it may be exactly what you've been secretly lusting for.