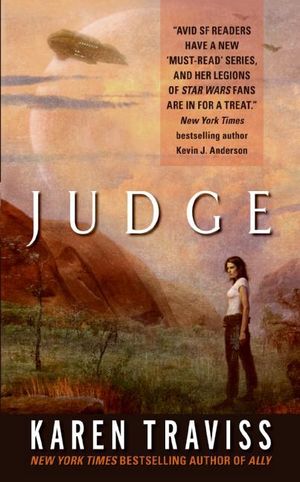 Judge
Release date: Mar 25, 2008
ISBN: 9780060882402
Format: Mass Market PB
The Eqbas have come, bringing justice, change, hope to some . . . and death to many.
Seeking to punish the human gethes who caused the near destruction of an ocean-dwelling race in the distant Cavanagh's Star system, the Eqbas have finally landed on Earth. But another, equally important obligation has drawn them across the galaxy: the salvation of this environmentally ravaged world, a mission that could entail the annihilation of billions of humans.
Former police officer Shan Frankland has come as well—along with her two lifemates, one alien and one human—carrying in her blood the parasite that makes her virtually immortal. Though she once vowed never to let the powerful contagion reach the homeworld she left nearly a century ago, she feels compelled to play an active role in the unfolding drama—and to follow the catastrophic events that have devastated civilizations and defined her life to their shocking, inevitable end.