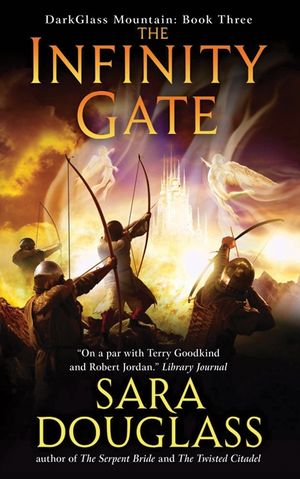 The Infinity Gate
DarkGlass Mountain: Book Three
Release date: Jul 26, 2011
ISBN: 9780060882204
Format: Mass Market PB
Tencendor is no more. The land is gone.But a few SunSoars still remain.And a new foe walks the world.
Ishbel Brunelle, priestess of the Serpent Coil, and Maximilian, the Lord of Elcho Falling, have raised the magic of Elcho Falling, and found new allies against the darkness in the mysterious Lealfast. And more crucially still, Axis SunSoar, former god and current hero, has rediscovered the magical Star Dance and revived hislegendary Strike Force to push back the evil hordes commanded by the DarkGlass Mountain.
But their enemy grows stronger through blood and betrayal, the Lealfast have their own agenda, and when unexpected treachery threatens, Axis SunSoar must face a darkness greater than any he has ever known.